Regular price
$129.00 USD
Sale price
$99.95 USD
Unit price
per
Sale
Sold out

Customize your owl house with a small phrase, dedication, tribute, name, whatever you would like.🦉 Adorned with a handsome mandala owl.

We can put up to 2 lines of text, totaling 40 characters. Just wait till your recipient opens the enhanced gift packed box.😍
You'll be happy you ordered the perfect present. Natural, sustainable, and bringing great benefit to any yard.🏡
This Could Be Your Family's Yard!
Just The Facts
✅  Screech owls protect your lawn from damage caused by large insects🦗& rodents🐀
✅  

Fun and educational to observe for the new or experienced owl enthusiast🤓
✅  

Well constructed cedar owl box resists rot & provides protection from predators for safe nesting🌳
✅  

Pull the pin for easy clean out hatch to release debris💩in the summer months☀️
✅  

Owl house kit ships FAST & FREE📦 (3-5 business days) ready for install with mounting screws, washers, nesting chips, & tips for owl box success
✅

  Owl Box exterior measures approximately 24 inches long x 5.5 inches x 6.5 inch box, 8 inch roof/knob depth
✅

  Owl Box interior nesting cavity measures approximately 4 inch x 5.25 inch wide box x 10 inch height to viewing window
✅ Interior gift wrapping included with tissue paper to enhance the gifting experience🎉
✅ Message us after purchase to add a custom note
 

card, at no additional cost
A Smaller Box For Smaller Screech Owls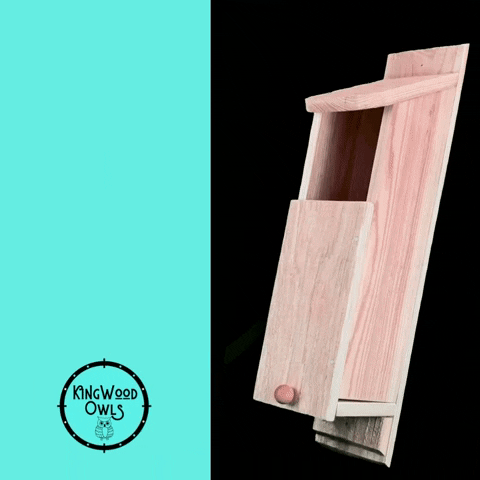 Superior Pest Control Without Harmful Pesticides
Owls will help control the large insect🐛 and rodent🐁 population that may be passing through you yard. Possibly doing damage to your lawn.😡 Leaving your home free of harmful pesticides you would have to use otherwise. So they are a welcome cost saving💰 addition to your property!
Experience A Joyful Wonder Of Nature

Host an owl in your backyard today.🏡 It's fun for everyone, young and experienced! Watch them swoop, glide, and hunt. Listen to the owls whinny conversations with their mate. Maybe even experience the magic of baby owlets🦉🦉 in the springtime. Known to be somewhat social creatures, owls will sit, perched proudly, sunbathe, and curiously observe their surroundings.👀 Small Screech Owls aren't typically spooked by children, dogs, or lawnmowers, and are not a threat to your domestic cats🐈 or small dogs.🐩

Owl House Kit Arrives With Everything You'll Need

Your all new KingWood cedar owl home will come with pine nesting chips. Screws, washers, & predrilled holes, for easy mounting. An info sheet with tips, owl behaviors, and our personalized KingWood Manor experiences with owls over the last few years. We even have an easy install, video tutorial to assist you. (Located on YouTube).📲 These owl boxes are typically hung at, roughly, 8-15 feet off of the ground, with overhead leaf canopy🌿 or roof eave, facing a more southern direction. Those northern winds could be a bit much for growing baby owls.🥶
The Owl May Be Wise, But Not Tidy

After nesting season is over, the owls will typically migrate further north. When our summer temperatures finally reduce, owls return back to their original stomping grounds to restart their mating and nesting ritual. So you can expect to host your guest every holiday season!🎄 There's even an easy clean out hatch on the bottom of box! Owls are not known for their good housekeeping.💩 HaHa!
Fast Shipping Directly To Your Home

It's a visually amazing learning experience to share with your family👨‍👩‍👦‍👦 and friends. Think of all the photo opportunities📸 with your cute new feathered guests! We now offer FAST & FREE SHIPPING📦 (3-5 days) anywhere in the USA!🇺🇸 Also makes a memorable gift🎁 that'll keep them talking for years to come! Don't be left out, order a KingWood Owl House now!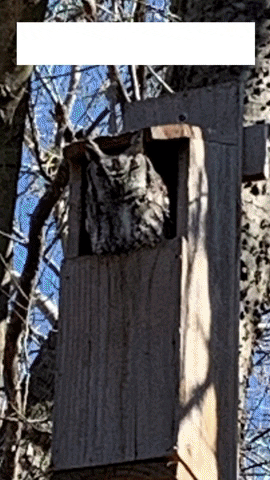 Start your OWL ADVENTURE today!

🦉

Share
View full details